VyOS and Nutanix collaboration moves to new level
Happy Friday!
We hope you all are doing well and stay safe! While it´s all unfortunate situation, it should not hold us back.
These days many companies need to scale their networks up to provide remote workers with access and to keep up with increased demand for network services. However, cost effectiveness is also a stronger requirement than before.
We at VyOS think it's important to collaborate with other vendors so people can do more using together our software and/or hardware. Affordable and efficient solutions needed now even more than ever.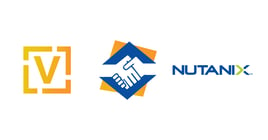 Since VyOS is open source and isn't licensed per device, socket, number of users, or bandwidth, it's very well suited for this role. One software subscription covers your entire network. To help companies grow their networks in a cost-effective manner, we've teamed up with Nutanix to move our partnership to new level.
VyOS was validated on Nutanix AHV back in 2019, now we will work together to make VyOS Blueprint available on Calm Marketplace.
If you have any issues with VyOS on Nutanix you can mention this to Nutanix support and we will work together to overcome any issues you may have.
All existing nutanix customers can leverage VyOS on all supported Hypervisors for very special price — the details will be available later, so stay tuned for updates.
Nutanix will provide us with marketing support and help more people discover the power and flexibility of VyOS. If you are already using VyOS on the Nutanix platform, tell us about your experience!
If you are a part of the Nutanix team and have a @nutanix.com email, you can self-register in support.vyos.io and receive access to LTS release images for testing and demonstrations as well as our access to support team.
Get most from VyOS on Nutanix! Talk to us today.