VyOS Certifications - VyOS Certified Networks Engineer (VCNE)
VyOS certifications for network engineers is one of the hot topics during the last years. Not only people were asking us when certification will be available, we've been also seeing more job offers that require VyOS skills. It took us a while to prepare everything but now it's time to officially announce the launch of the first certification: VyOS Certified Networks Engineer.

VyOS Certified Networks Engineer (VCNE)
VCNE will be first of VyOS certifications and requires intermediate skills in networking and VyOS. Certification will be valid for two years.
We decided to break away from the tradition established by Cisco et al.
There is no written exam.
There are no "configure this or that" scenarios either.
There are no multiple-choice tests
Instead, you are presented with a network that is broken in various ways. Sometimes it's local and remote configurations that don't match, sometimes different parts of the config don't play well together, sometimes your imaginary predecessor has completely misunderstood how a protocol works. There will be a list of objectives and you must get as many things from that list to work correctly as you can. It's not a single pass/fail result, each objective is graded individually and you can get a passing grade even if some things are left broken. You can also earn points for partial solutions. While we have "reference" solutions in mind, deviating from them doesn't count against you, so you shouldn't be thinking what solution we want to see—just focus on the problem on hand.
How to prepare?
The exam is rather comprehensive and includes problems with multiple protocols and features.
Before you attempt it, make sure to brush up IPsec, VTI, OSPF, BGP, NAT and firewall configuration.
We tried to avoid obscure options so that an experienced VyOS user and network admin can pass it without preparing specially for that certification, but it still requires a pretty broad experience.
What to expect?
When you register for a certification attempt, you'll be given a choice of date and time slot.
When your time comes, you'll receive a link to access the certification lab. We use Eve-NG for the lab scenario and it provides an HTML5 client, so you will only need a web browser to access it. No need to install any special client software.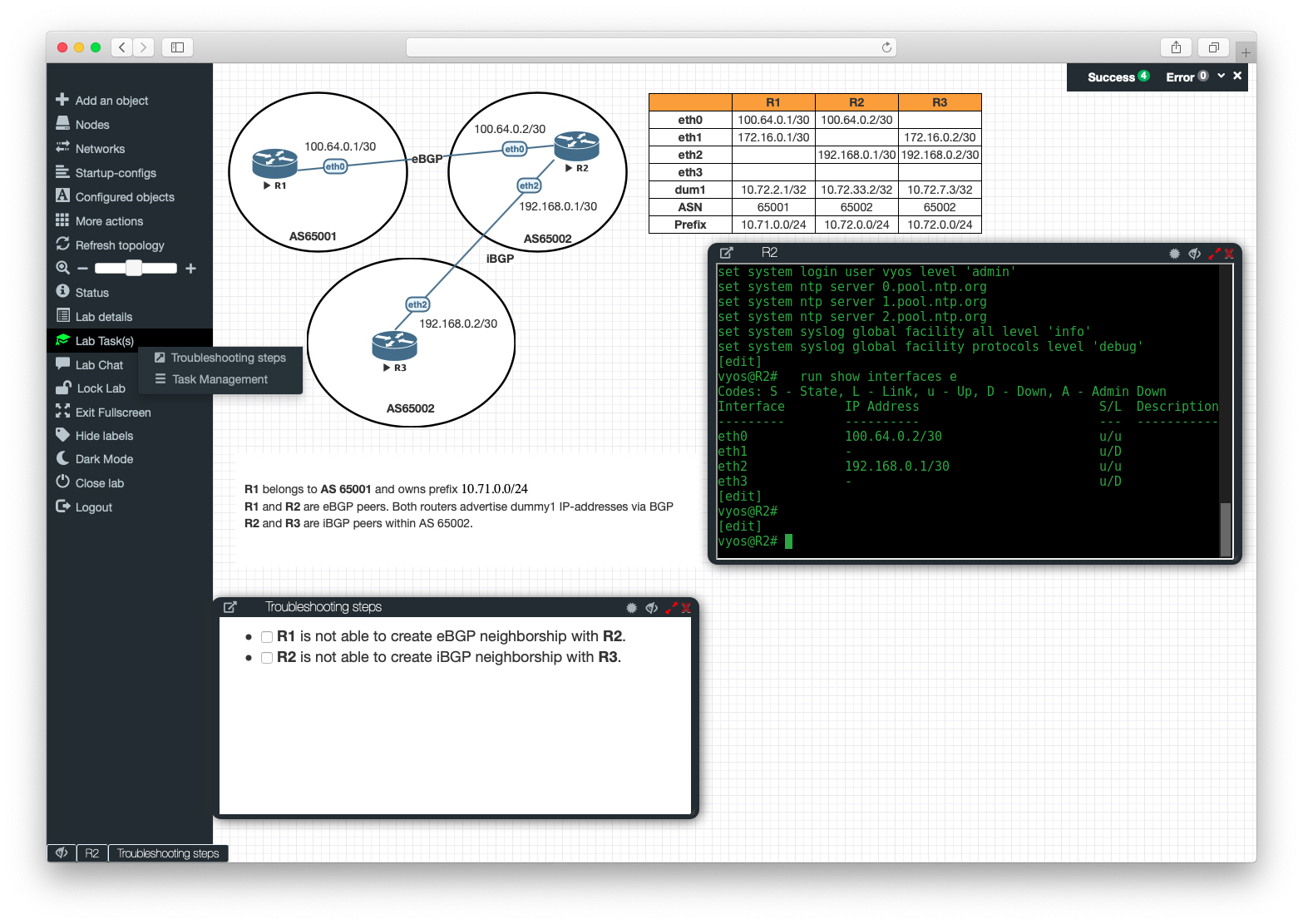 You will need to connect to a video call and provide an id card or passport to prove your identity.
Once you login to the lab, you will have 120 minutes to complete it. You will be presented with a network diagram and a table of interface addresses and terminal windows for each of the routers.
When you are done, just wait for the results.
If you passed, you will be granted VNCE badge on YourAcclaim platform and you will be able to add it to Linkedin and other social networks.
Additionally, VCNE gives 2% discount for orders to current employer orders and can be combined (up to 10% off) so it's not only proof of your knowledge but literally also discounts for your employer on all VyOS services.
Cost
Certification cost is $200 per exam.
First 100 candidates are eligible for a reduced price. To get that discount, register in the waitlist here (if you already filled that form before, then you don't need to fill it again).
We also offer free certifications to existing customers:
Existing Pro Customers will get one voucher for free
Existing Corp Customers will get five vouchers for free
To receive a voucher, submit a request in the support portal.
How to apply
We are still working on the certification page on our website, but soon you will be able to apply for the exam.
Meanwhile, please apply fill out the waitlist form.
P.S.
Due to the current situation with COVID-19 and existing waiting list it can take some extra time to process all applications. Bear with us and stay safe!