VyOS News Digest June
This year June was slightly hotter than usual, nonetheless not only heatwaves caught our attention. We gathered fresh releases, long-awaited decisions, and unexpected resolutions from the vast leading companies, strategically important VyOS solutions. Read below the monthly news digest about development and technology in the global IT industry.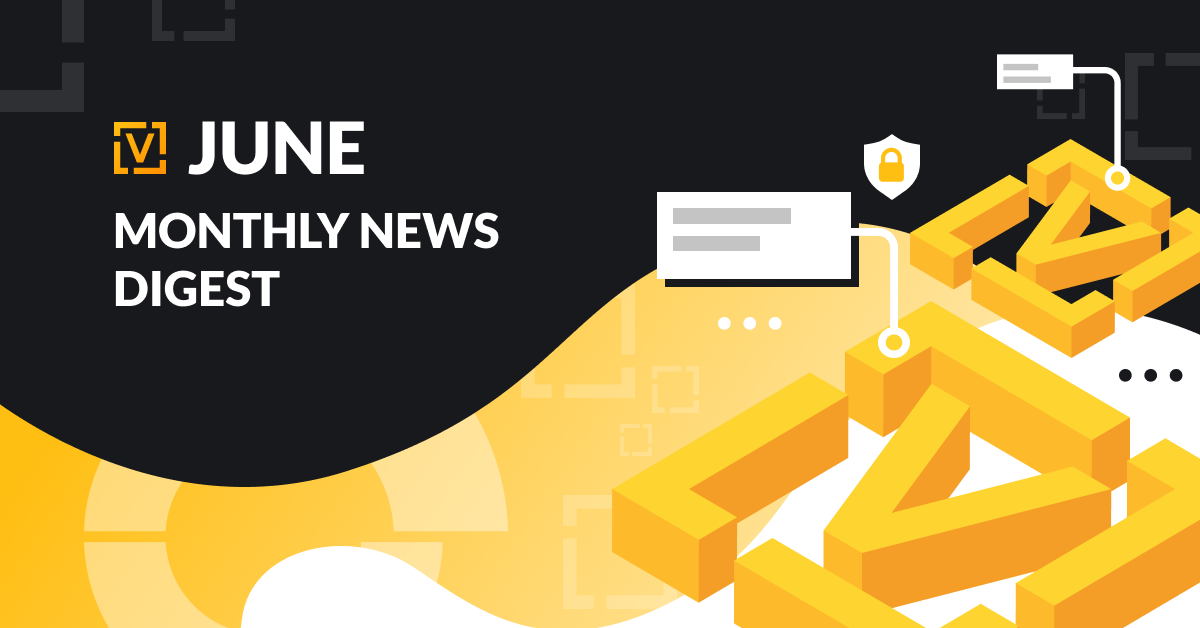 Red Hat's Ansible product upgrades: Ansible Tower 3.7 and the latest Certified Ansible Content Collections
New releases of the Red Hat Ansible Automation Platform markedly enhance the convenience, flexibility, and agility of the automation tools. New and experienced enterprise automation platform users can test the following updates:
Red Hat Ansible Tower 3.7: few new features that speed up automating of administration tasks, optimize the common API queries process, improve job scheduling, and rework UI communication protocols to manage profitable productivity.
Automation Analytics, that helps users to set and analyze the automation data inside an organization using visual dashboards, notifications, and statistics, sets the ROI calculator to measure the success of automation investments across particular domains.
The Automation services catalog is available to analyze, organize, and visualize the automation efforts to help developers, business users, and administrators manage physical, virtual, cloud, and container areas of automation. ASC provides the governance that users need to satisfy requirements around automation.
Moreover, 17 of Red Hat's Ansible Content Collections were released on a rolling basis for the popular network, security, and cloud partners (AWS, Arista, Cisco, IBM, Juniper, and Splunk), including fully certified and supported collections for VyOS. Being autonomous to the Ansible product releases, Ansible Content Collections provide organizations with relevant automation content instantly. The consistent format of ACC allows content creators to use modules, plugins, roles, and documentation.
Nutanix presents software tools adapted to remote work.
For the reason of the COVID-19 pandemic, the majority of IT-workers were forced to work remotely. Setting goals on effective and innovative work outside of offices, Nutanix released three software products to support IT workers in deploying and troubleshooting cloud software from any place of the lockdown. All of these tools are included in the Nutanix HCI software stack without extra fees.
The first software product is Foundation Central, an orchestrator that enables deploying private cloud infrastructure from any location using a Nutanix Prism interface. Using this tool, an IT manager can install or upgrade new tech software on either devices or services with zero-touch.
The next one is a Lifecycle Manager, an application that enables one-click managing of the Nutanix software stack and appliance firmware out of requiring any formalities. The product determines any software and firmware dependencies, prioritizes, and orchestrates upgrading flow.
Last but not least - Insights, the service that analyzes data from the cloud (clusters, sites, geographies) to reveal on-going and potential vulnerabilities; moreover, the product recommends how to fix any of the possible issues without opening a support ticket.
The largest-ever documented DDoS attack (with a volume of 2.3Tbps) was recorded in 2020 and mitigated by the AWS Shield, the Amazon's protection service for applications running on AWS.
One of the non-identified AWS customers was under the attack that is approximately 44% larger than all network volumetric events detected on AWS before. According to the AWS Shield Threat Landscape report, the CLDAP (Connection-less Lightweight Directory Access Protocol) reflection attacks caused three days of increased risk before halting.
ZDNet reports that hijacking CLDAP started from late 2016, as the CLDAP servers, with the ability to amplify DDoS traffic up to 70 times of original size, are highly sought-after for DDoS-for-hire services.
SAS software integrates with Microsoft Azure Cloud for more productive using artificial intelligence and analytics.
Now, it is available to run your SAS workloads directly in the Microsoft Azure cloud and increase your productivity by managing data and analytics efficiently.
Why is this partnership crucial not only for customers but also for the future of analytics and AI? Scott Guthrie, Microsoft Executive Vice President of Cloud and AI, explained that Azure-based SAS Analytics solutions moved to scalable and flexible Azure cloud would let customers use easier innovative ways to solve complex analytical challenges. He added that SAS (as an expert in analytics, data science, and machine learning) would accelerate growth and digital innovations to achieve business goals.
Oliver Schabenberger, SAS Chief Technology Officer and Chief Operating Officer, considered that partnering with Microsoft is a key decision that allows customers to drive Azure cloud, with smoother access to SAS solutions, and enables trusted decisions with analytics and AI workloads.
Slack improves business relationships: from now, up to 20 organizations may manage real-time business communication with multiple partners and vendors quickly, securely, and efficiently.
Slack primarily invented Connect to replace emails inside and outside teams by extending secure channel-based messaging. With the shared channels features, shifting internal communication became transparent and effective for every team member.
Introducing Slack Connect, Stewart Butterfield, CEO of Slack, noted that it is a "major leap forward" to transform open business communication in the most effective, pleasant, and productive way.
Companies are developing. Corporations are integrating and collaborating. Despite the diversity of decisions, organizations aim to implement innovative solutions for both customers and employees, create safe, convenient conditions and environments for business, and adapt to situations during these challenging times.